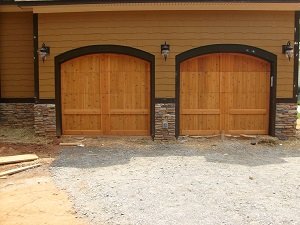 A garage door spring can break for several reasons. These include a spring that hasn't been properly maintained or adjusted, extreme fluctuations in temperature, or just wear and tear. Whatever the cause, when a spring breaks, you'll certainly know. Not only will the door not move, but a spring makes an incredibly large noise when it breaks. And, should it snap, it may be dangerous to bystanders.
Often, when a spring breaks, the garage door is already down. But, sometimes it snaps while the door is up or moving. If this happens, the door will come down very rapidly.
In the interests of safety, do not attempt to operate or move the door in this condition. Garage doors are extremely heavy and can cause serious injury. Rather call our professionals at Doors By Nalley for help. Savvy DIYers know that this is a job for the pros. And, if your garage door is old or showing signs of age, it's even more important to call for emergency repair service.
However, if the springs are making noise or squeaking, you might not need to call an emergency repair service right away. A little squeak doesn't necessarily mean a major problem – any more than a bad headache means a brain tumor. Apply lubricant specially made for garage doors and see what happens. If it makes no difference, there may be a serious problem brewing.
If you live in the Mooresville area of North Carolina and you need emergency repair service for your garage door, give us a call.