At Doors By Nalley in Statesville, NC, we offer an extensive collection of commercial overhead doors.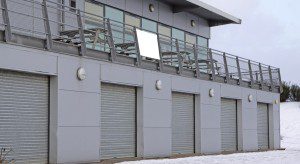 Commercial Overhead Doors in Statesville – If you are looking for commercial overhead doors in Statesville, NC, look no further. At Doors By Nalley, we offer an extensive collection of commercial overhead doors. Regardless of what type you are looking for, we can help you find it.
Come check out our extensive line of sectional doors that are extremely durable and offer thermal efficiency and aesthetic appeal. We also offer rolling and coiling doors in a variety of materials and slats. If fire doors are what you are looking for, ours are highly rated and come with the industry's best technology in fire protection.
Our specialty products include air curtain, traffic doors, impact doors and strip doors. We are committed to getting you the commercial overhead doors you most need and the ones you can rely on for years to come. Should your commercial overhead doors need repair, we offer 24/7 emergency services, guaranteeing that your door will be up and running (or down and locked) when you most need it to be.
At Doors By Nalley, we are a family operated company and have been in the business of providing, installing and repairing commercial overhead doors since 1990. We are your 'door to quality' and stand behind our first-rate products and our commitment to customer satisfaction. Since our company's founding by Buford and Debra Nalley 25 years ago, these two principles have driven the way we do business. Contact us today for an appointment with one of our professionals, or stop by our office in Statesville.
Here at Doors by Nalley we offer only the highest quality commercial overhead doors for our customers in Statesville, Mooresville, Charlotte, Hickory, Denver, Huntersville, Gastonia and Lake Norman, North Carolina!