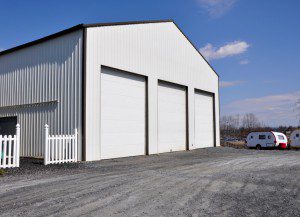 Commercial garage doors are as varied as their uses. Depending on the exact use, requirements, and building needing commercial garage doors, the solution can be tailored to your custom specifications in order to meet your practical as well as aesthetic demands. Be it agricultural, marine, light or heavy commercial uses, you deserve a door that will exceed your expectations for many years to come and a company to help you choose, install, and maintain that garage door so everything runs smoothly over the duration of the door's life.
At Doors by Nalley, we have decades of experience helping our clients in and around Mooresville, NC with all of their commercial garage doors. From deciding on whether to use steel or wood to build the door, to whether a sectional, rolling, traffic, fire door or other construction will best meet your needs, we have the width and breadth of experience and knowledge to help you choose the best door for you. Once the door has been selected, we'll handle the installation. Enrolling in our maintenance program will ensure that your commercial garage doors will be inspected regularly and repaired when necessary, and our 24/7 availability will ensure that any emergency services will be handled quickly and easily.

Whether in Mooresville, Gastonia, Hickory, Huntersville, Statesville, Denver, or Charlotte, NC, our experienced and trained professionals are licensed and have the knowledge and experience to make selection, installation, maintenance, and repairs a breeze. For more information, or to see what makes our customers the most satisfied in the Lake Norman area, call us today!