Safety tips for overhead doors in Denver, NC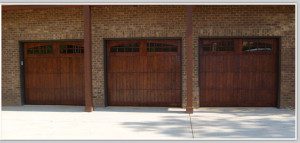 Overhead Doors in Denver – Most residential garages have overhead doors that provide safety and security for possessions. An overhead door can be dangerous if it is not used correctly, so use caution when opening and closing the door. If your garage door control is mounted too low, children may be able to press the button, which can be dangerous. Make sure it is at least five feet above the ground, and put it in a place where you can clearly see the door before you close it. This can protect children and pets from getting hit by the mechanism as it opens.
Another good safety tip for overhead doors is to test them regularly. Most modern garage doors have a sensor that stops and reverses the direction if something is in the way. Place a piece of wood in the path of the sensor and try to close it. If it doesn't reverse, you may need to schedule maintenance on the sensor or other parts of equipment. You can also do a visual check of the springs, rollers, and cables for any bending, cracking, or other signs of wear. Don't try to perform repairs yourself, as the springs carry a lot of tension and can cause physical damage. Make sure you also know how to operate the emergency release in case of a power outage or other natural disaster.
Overhead doors are a great option for your home garage, and if you live in or near Denver, North Carolina, our experts at Doors by Nalley of Lake Norman, Inc. offer installation, maintenance, and repair of overhead doors. Contact us today for more information!
---
Here at Doors by Nalley of Lake Norman, Inc. we offer only the highest quality overhead doors for our customers in Denver, Mooresville, Charlotte, Hickory, Statesville, Huntersville, Gastonia and Lake Norman, North Carolina!