We offer installation, maintenance, and repair for industrial overhead doors in Denver, NC.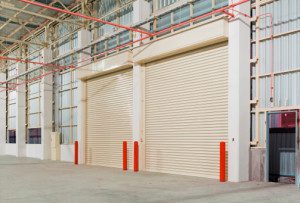 Industrial Overhead Doors in Denver – At Doors by Nalley of Lake Norman, Inc., we provide installation and service of industrial overhead doors to businesses in Denver, North Carolina and the surrounding communities. We offer emergency service 24 hours a day, 7 days a week because we understand that if a problem arises with your garage door, you can't wait for regular business hours to resolve it. We also have a "Tune-Up" preventative maintenance program, in which a qualified repair expert will come to your business to thoroughly examine each of the industrial overhead doors. If he or she finds any problems or potential concerns, you will be informed and given information about repairs. This can prevent serious and dangerous problems in the future.
Industrial overhead doors can be dangerous, especially if they are used by people who don't know how they work. They are usually much larger and heavier than residential or commercial garage doors, so staff members should steer clear when the door is opening or closing. If you notice any strange sounds coming from the machine, make sure to call us for maintenance instead of attempting any repairs on your own. If the springs break while you are trying to fix a problem, the door could fall and cause serious injury or even death.
Industrial overhead doors are very beneficial to clients who keep products stocked in a warehouse or perform services in a garage. The employees can stay protected from the elements while they work, but customers can come right into the warehouse by easily opening the industrial overhead doors.
For more information about industrial overhead doors, please contact us at Doors by Nalley of Lake Norman, Inc. in Denver, North Carolina.
Here at Doors by Nalley of Lake Norman, Inc. we offer only the highest quality industrial overhead doors for our customers in Denver, Mooresville, Charlotte, Hickory, Statesville, Huntersville, Gastonia and Lake Norman, North Carolina!